I leave first thing tomorrow morning and I have a shitload of things to do today.

So this is going to be my last post until Monday. So I thought I would make it fun...

















Here is Spicy with various people you may know. I have a ton more pics that I may show ya later, or not, but here is what I have now..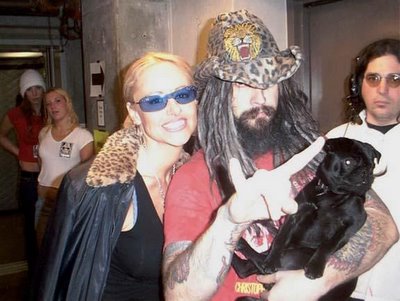 Spicy with Rob Zombie backstage. Rob was a really quiet guy, with huge platform boots on making him look almost as tall as I am. (5'8) But in reality he is about 4" shorter than he appears here. That is his pug named Dracula, of course. Rob Zombie was kind enough to let my buddy, also named Rob, and I take a pic with him. But he told everyone else to bugger off. Check out the jealous bitches in the background..heh.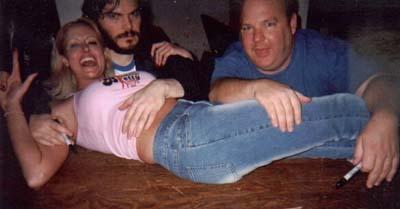 Here is one of the infamous Tenacious D pics. One of many, I might add. I have met Kyle Gass twice, this was the second time I met him. KG is a totally great guy and lots of fun to party with. Jack Black is a great guy as well. This pic was taken backstage after The D's concert. From there a bunch of us (including JB) went out and sang karaoke in a dive bar. Jack sang 'Summer of 69' by Bryan Adams. He said he likes that song because he was born that year.


Sammy Hagar is the man. Here we are toasting margarita's that he made. Sammy is a real sweet guy and introduced us to his family and bandmates backstage. I covered my boobs here, (no shit) because I didn't feel like hearing about them. :) I was going for Miss Cabo Wabo 2001 and got to serve Sammy drinks onstage (along with 2 other girls) during a concert. It was loads of fun. Boy, did I get hammered that night.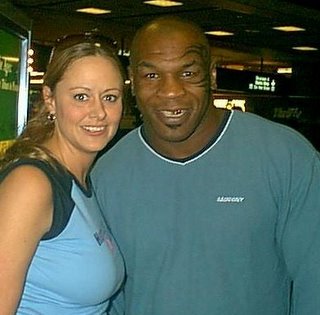 Mike Tyson and I in Vegas. This pic cracks me up because of the look on my face. Anyhow, this is in Vegas at the airport. I know he's a giant pitbull of a guy, but he was nothing but sweet to my hubby & I. He even let us take a pic after his bodyguard (asshole) repeatedly told me I couldn't. Thanks Mike. And thanks for not taking a piece of my ear off.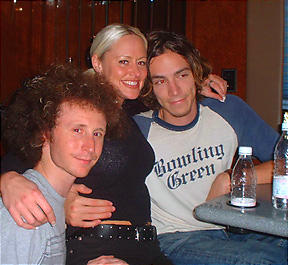 Incubus fucking rocks! Here I am with Brandon & Mike. Holy shit, is Brandon a hottie or what?! AND he was cooler than hell. Very down to earth, and very focused. Mike was a damn cool mofo too, and he loves his weed. My kinda guy! This pic was taken in their tour bus after a concert. KG of 'The D' was there hanging with us too. It was pretty chill. We were all drinking beers and smoking some good herb and kickin' it. Brandon doesn't drink or smoke. He drank his bottled H2O was content with that. I told him how lucky he was to be doing what he loved and to be paid well for it. I also told him to never take it for granted. You know, don't let the fact that you're a totally hot 20-something rockstar babe go to your head. Hopefully he won't.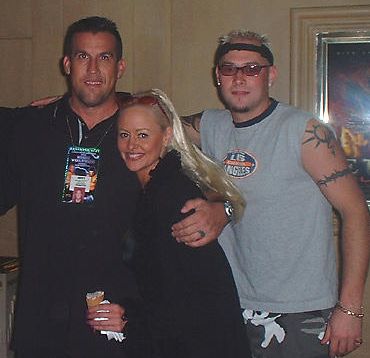 And finally, here is my brother and I with Big John McCarthy of the Ultimate Fighting Championship. We ran into him at the MGM in Vegas. He gladly set his things down and took this pic with us. We went to the UFC fights later that evening. We met tons of the fighters that day, and I have a ton of pics. Again, I'll save them for another day. My brother (*RIP 1974-2002*) was a huge fan of UFC. So this pic means a lot to me.

Well, there ya have it! I hope it fun as much fun for you as it was for me! You all have a rockin' weekend and email me some pics or something while I am gone, alright? See you soon! -Spicy!

(Spicy Pants has left the building.)